Other Continuities

The US Marvel Comics that never made it in the continuity

The Herb Trimpe 'Get George Bush' Story Arc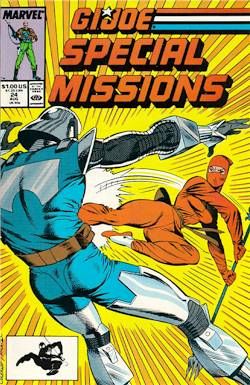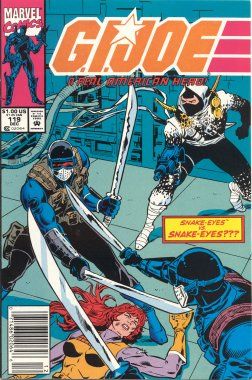 G.I Joe: Special Missions Issue 24 "Ladies Day"
Written by Herb Trimpe, this just does not fit into anything that is happening in the main continuity.  Firstly, in the main series Cobra is no longer a national threat and are now concentrating on the dirty side of legitimate business (i.e. cold calling, property schemes etc.) but here they've suddenly decided to kindap President George Bush Snr. in front of a Baseball stadium full of witnesses??!!!!  Secondly Raptor has been laying low since the shooting of Cobra Commander and hasn't seen Fred VII since, but here he's suddenly working alongside him which also contradicts when Raptor does appear in the main series again.  All characters just seem completely out of character.  Also introduces Crystal Ball who is such a pantomime villian it's difficult to get sucked into the story. 

G.I Joe: A Real American Hero Issue 119 "Double Trouble"
Again written by Herb Trimpe filling in for Larry Hama.  The joes intercept a cobra cargo container which includes a George Bush Snr. robot which the commander intends to replace the real one.  Snake Eyes, Storm Shadow and Scarlett infiltrate the Cobra Consulate building in New York to find a whole menagerie of celebrity, political and joe robots.  The main problem here is the consulate building, less that a year previous the building is shown as still being a ruin but now it's completely rebuilt and refurbished and fully operational which is a little hard to believe.  The building does appear whole again later in the Larry Hama written issues but at least there's a couple of years difference to get out of it. 

Overall, I've taken both of these out of the main series and placed them in their own continuity with the theme of Cobra Vs President Bush running through both of them.  (Is Mr. Trimpe a Democrat???)


The UK Marvel Comics that never made it in the continuity
 
Action Force Weekly




Flint's statement above imitated my reaction when I tried to fit Action Force Weekly into the US continuity.  As a background in the UK, Action Force was originally published in Battle Action Force in their own continuity with characters unique to the UK toyline with characters from the US eventually joining (For more information on this series see www.bloodforthebaron.com ).  In 1987 the franchise was handed to Marvel UK who reprinted the US issues introducing the now main continuity to the UK.  Alongside the reprints were original UK produced storylines that featured a team led by Flint and Lady Jaye with members of the Joe team that didn't feature much in the main series (i.e. Bazooka, Quick Kick, Alpine, Footloose, Airtight, Barbecue, Heavy Metal, Wild Bill) based in the UK. These stories fitted in around the US reprint continuity and seemed like they would be simple enough to fit it in when I put the main continuity together.  Unfortunately after reviewing the original US material it was fairly obvious that the reprints were actually rewritten, reordered and sometimes pages completely deleted so that the reprints would fit in with the UK continuity which has unfortunately made fitting them into the main continuity almost impossible.  Below is a list of the original UK stories and the issues that they appeared in.  Issues I have seperated together are one story.

AF1 Gunboat
AF2 Cut & Run
AF3 Run To Ground
AF4 Coils Of The Seprnt
AF5 Snow Chase
AF6 Terror Tower
AF7 Fast Feud
AF8 A Bomb In Wardour Street
AF9 Holding The Baby

AF10 Morrocan Roll
AF11 Rigged Part 1
AF12 Rigged Part 2
AF13 The Man In The Silver Mask

AF14 Cold Comfort Part 1
AF15 Cold Comfort Part 2
AF16 Cold Comfort Part 3
AF17 Cold Comfort Part 4

AF18 Dummy Run!

AF19 Doppelganger Part 1
AF20 Doppelganger Part 2
AF21 Doppelganger Part 3
AF22 Doppelganger Part 4

AF23 Gas Masque!

Transformers UK Issue 125 Ancient Relics Part 1
AF24 Ancient Relics Part 2
AF25 Ancient Relics Part 3
AF26 Ancient Relics Part 4
AF27 Ancient Relics Part 5

AF28 Gunpoint!

AF29 Sky Strike Part 1
AF30 Sky Strike Part 2
AF31 Sky Strike Part 3

AF32 Runaway Train

AF33 Sunday Drivers Part 1
AF34 Sunday Drivers Part 2

AF35 Violent Lives! Part 1
AF36 Violent Lives Part 2

(Issues 37 & 38 were a reprint of the silent GI Joe Issue 21 with a prologue and epilogue added to fit into the continuity)

AF37 Prologue: Consequences
AF37 Silent Interlude Part 1
AF38 Silent Interlude Part 2
AF38 Epilogue: Truth

AF39 Coma!

AF40 Law Of The Jungle! Part 1
AF41 Law Of The Jungle! Part 2

AF42 Rage!
(Violent Lives, Coma! and Rage! are all one storyline with a time of passage inbetween) 

AF43 Silent Night

AF44 Destro: Down And Out Part 1
AF45 Destro: Down And Out Part 2
AF46 Destro: Down And Out Part 3

AF47 Venetian Blind Part 1
AF48 Venetian Blind Part 2
AF49 Venetian Blind Part 3
AF50 Venetian Blind Part 4

Action Force Annual 1991 - Piece Of The Action!
Action Force Annual 1992 - Hai Financ£!

For Action Force Fans here are the main key points in the US title that push this series out of the continuity.
1) GI Joe Issue 32 'The Mountain' - Lady Jaye joins the team (deleted in UK)
2) GI Joe Issue 37 'Twin Brothers - Flint joins team and meets Lady Jaye for the first time (rewritten in UK)
3) GI Joe Issue 38 'Judgements' - Storm Shadow frees Billy and turns his back on Cobra. (specific pages taken out of UK reprint and reordered into a later issue)
4) GI Joe Issues 34-38 Cobra Headquarters in suspension while investigation into assassination attempt is investigated.
5) GI Joe Issue 44 'Improvisation On A Theme' - Airtight, Heavy Metal & Bazooka join the team. (Reorderd in UK - First US reprint used as preview in Transformers UK)
6) GI Joe Issue 45 'In Search Of Candy' - Alpine & Quick Kick join the team (rewritten in UK as visitors from Europe)
7) From the above issue onwards is the run up to The Battle Of Springfield and the immediate retaliation by Cobra on The Pit resulting in Cobra Commander and Destro being presumed dead.  Destro returns but is no longer seen as a threat to the Joe team.
As you can see it's an awful period of quick character changes in the main series that makes it virtually impossible to fit in.  Certain 5 page stories could fit in later on as a push but I think that they're all best kept together all in one continuity so they don't look a bit random in the main series.

Action Force Monthly (G.I. Joe European Missions)




Issue 6 - 'As Thick As Thieves'

A prelude to the Action Force / G.I. Joe The Movie.  Belongs in the cartoon continuity.

Issue 7 - 'Mark Of The Assasin'

Storm Shadow is called to do an assassination by hooded Cobra Commander.  Problems here are that Storm Shadow no longer works for Cobra and Cobra Commander is presumed dead and is replaced with Fred VII in battle gear to enable him to sound like the commander.




Issue 8 - 'Nuclear Winter'
Issue 13 - 'The Prisoner!'

Destro is captured and taken to Action Force Headquarters in London where Cobra Commander attacks in order to rescue him.  Main error points - Destro is no longer a threat to GI Joe in the main continuity, Cobra Commander would never go to that much trouble for Destro, Cobra Commander wearing hood when he has been replaced by Fred VII who has to wear the battle helmet to make him sound like the Commander.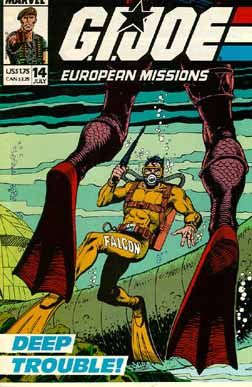 Issue 13 - 'The Prisoner!'

Again Cobra Commander Hooded when replaced by Fred VII

Please note with the exception of As Thick Of Thieves all of the above can fit into the UK Continuity.

---------------------------------------------------------------------------------------

The IDW Continuity

This is a rough guide as it's a new continuity with varied releases that don't follow directly after each other.  (Season One will be completed soon).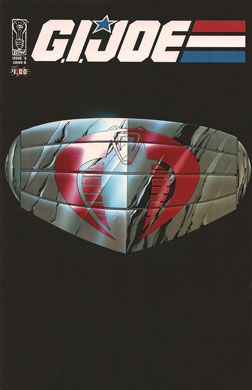 GI Joe Origins Issues 0-5

GI Joe Origins Issues 8-15

GI Joe Origins Issue 19

GI Joe Origins Issue 7

GI Joe Issue 0

GI Joe Origins 17 (Set before and during GI Joe Issue 1)

 GI Joe Issue 1-6

GI Joe Origins Issues 17-18 (Set during GI Joe 7-12)

GI Joe Issue 7-12

GI Joe Cobra Issues 0-4

GI Joe Origins Issue 6

GI Joe Issues 13-17

GI Joe Special: Helix

GI Joe Special: Cobra

GI Joe Cobra II Issues 1-4

GI Joe Issues 18-22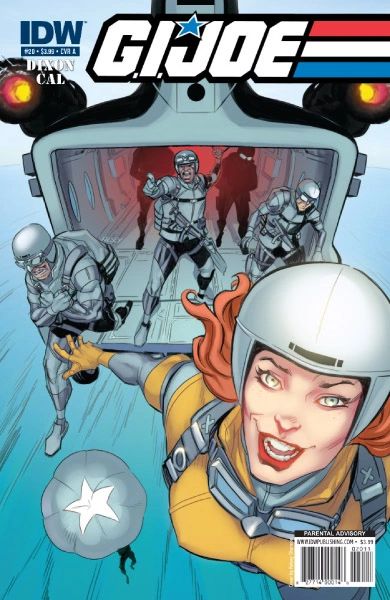 --------------------------------------------------------------------------------------

The Movie Continuity

The Official GI Joe: The Rise of Cobra Prequel: Duke, Destro, Baroness, Snake-Eyes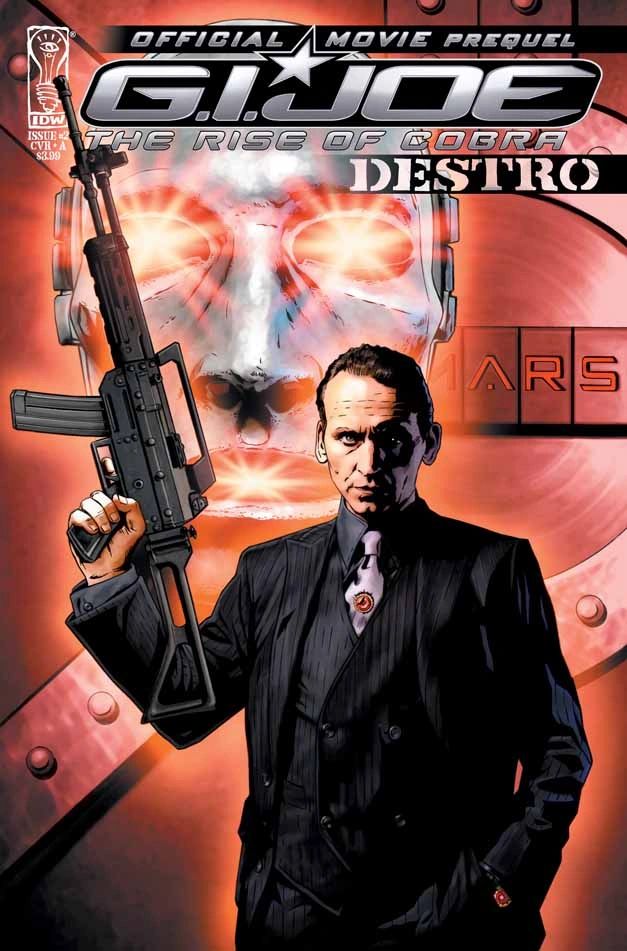 GI Joe: Snake-Eyes 1-4



The Official GI Joe: The Rise of Cobra Adaptation 1-4



GI Joe: The Rise of Cobra (UK) Issue 1 'War Zone' Part 1
GI Joe: The Rise of Cobra (UK) Issue 2 'War Zone' Part 2
GI Joe: The Rise of Cobra (UK) Issue 3 'Nuclear Stand-Off' Part 1
GI Joe: The Rise of Cobra (UK) Issue 4 'Nuclear Stand-Off' Part 2
GI Joe: The Rise of Cobra (UK) Issue 5 'The Raid' Part 1
GI Joe: The Rise of Cobra (UK) Issue 6 'The Raid' Part 2



GI Joe: Operation Hiss 1-5